Words on Words: Cynthia Lord coming to Mallett School
Next Monday, Feb. 8, Cynthia Lord, author of The Newbery Honor award winning book Rules, will be coming to Mallett School to share her new picture book, Hot Rod Hamster. This event, which begins at 2 p.m., is open to the public, especially pre-schoolers! Everyone involved is seething with excitement about this event, partly because Hot Rod Hamster is an absolutely terrific book, and partly because Cynthia was brave enough to agree to the following hard hitting interview!
KB: Even though they both deal with the management and presentation of choices, to me there is a real difference between Faust and Hot Rod Hamster, and that has to do with the responsibility of a child's caregiver to manage choices responsibly, as opposed to an adult who is basically on an island when it comes to dealing with Mephistopheles. I love the way the Bulldog manages things with Hot Rod, particularly when he makes one choice for him and gives him a helmet. Is if fair to see the Bulldog as an ideal caregiver, or is he just a great crew chief?
Cynthia: You are the first person to see the Faust connection! How very insightful of you to see what I was going for there! Bulldog and Hamster have a parent/child relationship. As a parent myself, I always wanted to encourage my children to dream and try--even when I knew their grand plans probably wouldn't end exactly as they hoped. I remember my daughter as a preschooler making an elaborate "squirrel trap" in our yard. She came and asked for rope, a laundry basket, crackers, and various other things. Watching her put that trap together, I knew the squirrels wouldn't fall for it, but I gave her the rope and such anyway. Hamster is a dreamer of big dreams. Bulldog is the sensible one, but he still lets Hamster try--because sometimes, as a parent (or as a business-owning bulldog), you end up being wrong. Every now and then, those big, seemingly-impossible dreams do come true.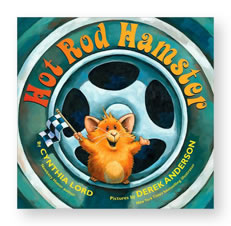 KB: Hmmm. Now if you had to pick out a book for a four year old you didn't know what would it be?
Cynthia: I love so many books for that age, but I have yet to meet a four-year-old who didn't love The Very Hungry Caterpillar by Eric Carle.
KB: How about for a friend who was going to be home sick for a few days and asked for something well written and sensationally fun?
Cynthia: The Hunger Games by Suzanne Collins would be a great sick-bed choice for a young adult or adult reader. It's so exciting that I bet it would make my friend forget he/she was sick! It was also edited by Kate Egan, who lives around the corner from me in Brunswick. I've tried to get Kate to spill some secrets from the upcoming third book in the series, but she won't budge!
KB: It's only right and proper that Kate keep the details locked down, but if she does slip up call me right away! And finally, what book, if you heard a friend disparage it, would make you rethink your friendship?
Cynthia: The "Frog and Toad" early-reader series by Arnold Lobel are very special to me. Not only are those books timeless masterpieces, but I have a son with autism, and when my son was little, there were times that he couldn't put words together on his own to say what he wanted. So to express himself, he would repeat a line from one of his favorite books where a book character was feeling the same way he was. To hear those beautiful lines said by a child who couldn't express himself any other way was always very moving for me as his mom.
As an author myself, I am sure Arnold Lobel had no idea what those books would mean to the world. Not only was he crafting words and stories that would resonate with children for generations, he was also writing words that would become my child's communication with the world.
So if someone were to disparage or minimize those books, that person had better know how to duck! No, I would actually feel sorry for him/her. That person would be missing out on something incredibly special.
KB: I won't be running for cover because the memory of sharing Frog and Toad stories with my son has remained an unvarnished pleasure for me. They should be a part of every childhood. Thanks so much Cynthia, we'll see you on Monday!